Designer Pillows ~ Get the Look Many of us love a mixed-and-matched pillow combination look. The designer look that is well thought out and original. Choosing patterns, textures, and colors for the perfect pillow combination can be easier said than done. So, I put together a few tips to help! However, if you are not up for the journey of building the perfect pillow combo I have many beautiful pre-designed pillow combos here. After designing hundreds of pillow combination looks for my clients over the years, I've learned how to tutor the process in a way that allows them to feel confident with their choices so they may express their style. ...
---
• Pillow Insert Fit Guide • styling guide
 Watch Video Learn two quick and easy ways to measure your pillow insert. Knowing what size your pillow insert is allows you to select the right size pillow cover. Shop Our Pillows: https://hacknerhome.com Shop Items In This Video: Twine  Yard Stick Retractable Measuring Tape    Read more pillow styling tips on our blog: https://www.hacknerhome.com/blogs/learn See How We Style Them Here: Instagram: https://www.instagram.com/hacknerhome Facebook: https://www.facebook.com/hacknerhome Pinterest: https://www.pinterest.com/hacknerhome
---
• Pillow Insert Fit Guide • styling guide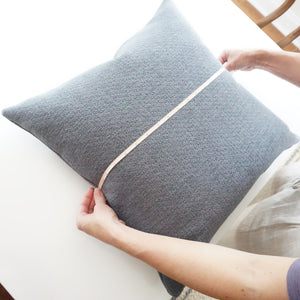 It can sometimes be tricky to find the perfect combination of pillow inserts and pillow covers that fit each other. The size pillow insert you need for your pillow cover depends on the fill material. There are many different types of pillow fill materials. We sell four different types: down feather, down alternative, plush polyester, and polyester indoor/outdoor. To help you choose the best combination of pillow insert size and pillow cover size, we created these helpful charts.  Down Feather Insert Guide We sell two different types of down feather inserts. These different inserts are available in different sizes, and are...